Red Hat Remote Exams – Everything you need to know
Latest posts by Gineesh Madapparambath
(see all)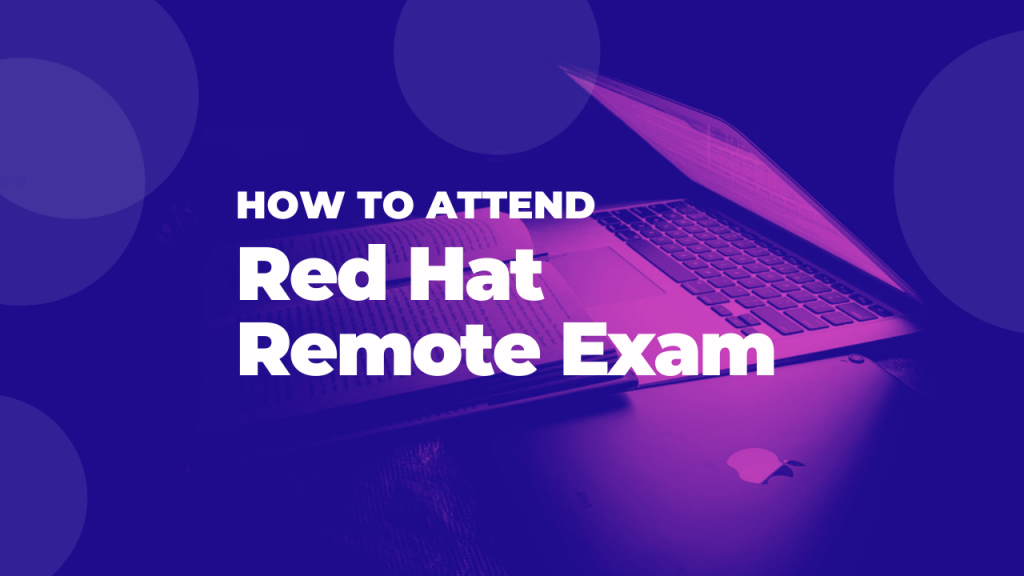 We all know Red Hat certifications are very valuable and it will help you a lot for getting shortlisted in the hiring process. But we also know, Red Hat Exams are not simple multiple choice question exams but 100% practical exams and performance measurement is involved. And Red Hat exams always happen at class rooms, onsite or dedicated kiosks at authorized Exam centers. But we all know, most of the exam centers were closed during COVID-19 pandemic and we were in a situation where we cannot schedule or attend any Red Hat exams. To be honest, I have scheduled my OpenShift exam 6 times and cancelled or rescheduled because of this situation, until I attended that here in Singapore in last July. But this is not the situation anymore.
Disclaimer : I am not affiliated or associated with Red Hat, or any of its affiliates right now. This is purely based on my personal experience with Red Hat Remote exams.
In August 2020, Red Hat announced the availability of Remote exams for students and the entire Learning community were so happy, yes we can attend Red Hat exams from our home or office; not all exams yet. It was only 4 exams in the first place but we can see more exams are available as remote exams now. But we all got confused when we read the details of the exam environment; yes it is not easy and not straightforward like other remote exams.
Watch this video, where I have explained about Red Hat Remote Exams and how to prepare for a remote exam.
Okay, as I mentioned in the first place, Red Hat exams are 100% practical exams happening in dedicated exam centers with strict rules. So, how can we achieve the same strictness and transparency when we conduct practical exams remotely ? Red Hat wants to avoid any situations where exam takers cheat during their exam.
Yeah, most of our remote exams are multiple choice exams and we just need to share the entire desktop and remote proctor will watch our activities together with the visual from our desktop or laptop camera. Even we have remote exams with practical tasks like Certified Kubernetes Administrator or Certified Kubernetes Application Developer – but those also use browser based platforms and the remote proctor is using screen sharing and webcam visuals. Sorry, Red Hat remote exams will not happen in that way.
How can we attend Red Hat Remote Exams ?
The Red Hat Remote exam will happen in a special arrangement where you will have to boot with a special Fedora Operating System provided by Red Hat. You can download the ISO from Red Hat and create a LIVE OS USB boot disk; and test it on your system before you plan for Red Hat Remote exams. Watch the video for more details. Red Hat has given detailed instructions on how to make LIVE USB boot drives, but this will be easy and you can use any method to create the USB boot disk.
Available Red Hat Remote Exam Offerings
Red Hat Certified System Administrator (RHCSA) exam (EX200)
Red Hat Certified Engineer (RHCE) for Red Hat Enterprise Linux 8 (EX294)
Red Hat Certified Specialist in OpenShift Administration exam (EX280)
Red Hat Certified Specialist in OpenShift Application Development exam (EX288)
Red Hat Certified Specialist in Virtualization exam (EX318)
Red Hat Certified Specialist in Deployment and Systems Management exam (EX403)
Red Hat Certified Specialist in Ansible Automation exam (EX407)
Red Hat Certified Specialist in Advanced Automation: Ansible Best Practices exam (EX447)
Read Ways to test
How to enroll for Remote Exams ?
Once you purchase the exam, you will receive instruction to access the Exam Scheduler portal, where you will see the eligible exam or purchased exams. If the exam is available as remote, there will be an option to choose Remote Exam and you can book for the available slot. Please remember to choose your timezone properly to avoid wrong time slot selection.
I recommend that you arrange and test your remote exam set up at least 4-5 days in advance. I will explain more details about the Remote Exam set up, please continue watching above video.
What about Remote Exam Fee
There is no price difference for Testing centers or remote exams; remote exam is just an additional option other than classroom and testing center exams.
How to prepare your Workstation for Remote Exam ?
This is the interesting part as you are setting up an exam environment the same like at Testing centers. As I explained earlier, you will boot from a LIVE USB Disk which you have prepared using the ISO provided by Red Hat. Refer to the Red Hat guide which I have mentioned in the description. You will find the links to download ISO, then how to create USB Boot disks with different operating systems, what are the supported workstations to attend exams etc. Yes, you can refer the same anytime even before purchase of your Red Hat exam.
Proctors should be able to monitor you from an angle, covering your laptop and seating position and the proctor may ask you anytime to show your room or desk if any suspicious activities are observed; yeah it's the same for all remote proctored exams. So you must need an external webcam with at least 1 meter cable length. And Yes, you need a minimum of 2 USB ports for this setup.
And you cannot use any device like bluetooth or wireless keyboards and mouses.
Can I use an external keyboard and mouse as I am not comfortable with the laptop's integrated keyboard and touchpad ? Yes, you are allowed to use an external keyboard and mouse; Red Hat already mentioned this in the document.
What if my laptop screen is very small and I need to use my external monitor for a better screen area ? Yes, bigger screens are good for exams as you can do multiple things in parallel without switching between tabs and consoles and the good news is that you can use an external monitor ! But you need to keep your laptop lid closed ! That means, you can use only one screen and that will be an external monitor.
Oh wait, please note, you will not be able to use the laptop keyboard and touchpad when you keep your laptop lid closed. Right ? That means, you must have an external keyboard and mouse if you want to use an external monitor with a laptop. And yes, the number of USB ports required are 4 now ! This is another issue I have mentioned earlier and we all know, most of the laptops will not have more than 2 USB ports and some don't even have USB ports but USB Type C ports ports. So, you need to arrange a USB extender or converter if you are planning a full setup with an external monitor.
You can get a budget USB extender from Amazon or Shopee but just buy a decent one with multiple options for your future use. I have used my UGREEN USB C Hub which is a 6 in 1 converter with HDMI, USB Ports and SD Card slots.
Also, if you are buying a new webcam, make sure you avoid cheap web cameras; because during the verification process, you need to show your ID to proctor via this external webcam. If the camera is not that good, the ID won't be able to read and you will be in trouble or may end up in rescheduling the exam. So buy a decent web camera; I think you can get a decent one for 50-100 USD or less than that and you can use it for your future video calls.
So, basically you have 4 options.
Laptop screen, external webcam, integrated keyboard and touchpad only
Laptop screen, external webcam, integrated keyboard and wired, external mouse.
Desktop computer with single monitor, external webcam, wired keyboard and wired mouse.
Laptop with lid closed, external monitor, external webcam, wired keyboard and wired mouse.
What about mic and speaker ?
Mic and speakers are required to be ON for the entire exam and you can use your laptop built-in microphone & speaker. Headsets are not allowed as per my understanding, but you may confirm with the Red Hat support if this is an issue.
What about Internet connection ?
It is highly recommended to get a wired internet connection if possible but as we know most of the time it won't happen as our router will be placed at the main hall and we will not be able to attend the exam from there. So, if you are connecting to Wifi, make sure the signal is good and the required speed will be there on your machine. I heard from people that they have attended some online exams using mobile data and mobile hotspot, please don't plan such arrangements for Red Hat remote exams even if you have 100% trust on your mobile service provider and signal. Not a good idea 🙂
Am I ready for a Remote Exam ?
Good question; Ensure you have connected your LIVE OS USB disk, external mouse, keyboard, external camera etc before you power on your workstation. Once the LIVE OS is loaded from the USB Boot disk, before you goto exam login, there will be an option for setting up Wifi connection, Mic & Speaker etc. Make sure your audio and mic is working fine as you will not be able to adjust this later and need to reboot to get the configuration window again. After the configuration, there will be a Compatibility Test option once you login to the Red Hat exam from LIVE OS. You can refer to these details from Red hat official documentations as well. So, run this Compatibility test and make sure you pass it for your remote exam setup. As I recommend in the beginning, you can do all these tests even before you book the exam but just need your Red Hat login to sign-in and do this test. Remaining arrangements are normal exam procedures and I cannot explain in detail due to the NDA.
What about drinks or snacks ?
As we know Red Hat exams are 3 or 4 hour long sessions and you can take breaks with permissions. But instead of going out, you can keep some drinks or some small snacks during your exam, but they have to be checked by the proctor on camera before the exam begins. Read their Frequently asked questions for more details.
That's all for Red Hat Remote exams and I believe you have some idea about the exam arrangement and procedures.
References