5 Mistakes You Should Avoid During Kubernetes Exam
Latest posts by Gineesh Madapparambath
(see all)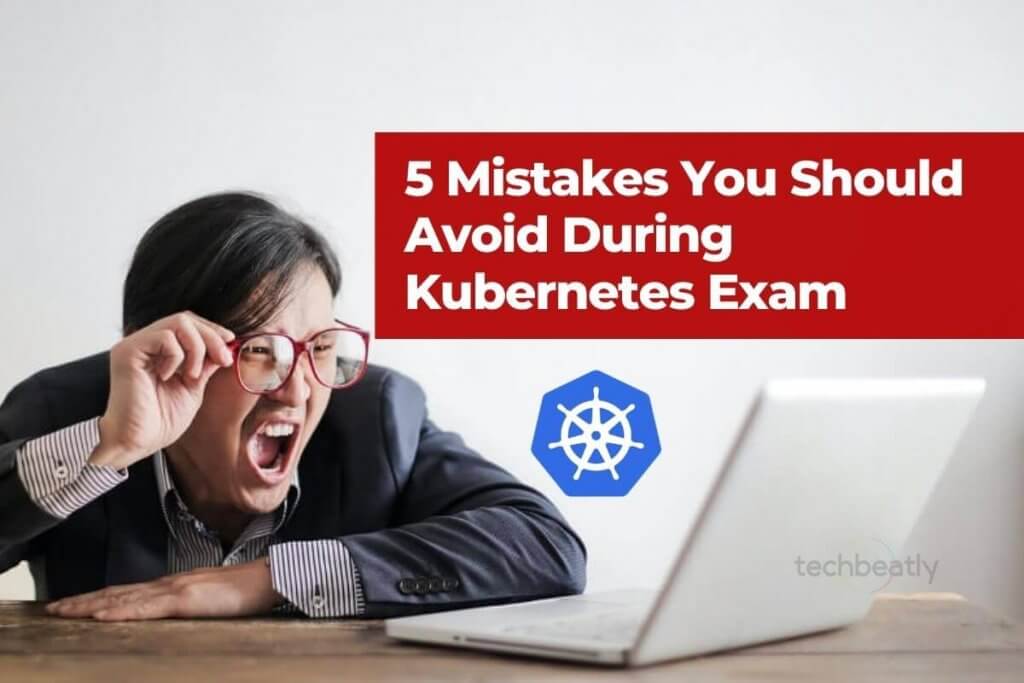 Read this article if you are planning to attend any of the Kubernetes exams in the near future. Because many shared in the forums or chat groups and saying that they missed to enable that, they missed to do this etc; even after reading a lot of tips and tricks for the kubernetes exam !
Watch the video for details.
1. DO NOT forget to access the correct cluster for each question.
As you might already know that, there will be multiple clusters in the exam environment and you need to access the correct cluster depending on the question. Refer your candidate handbook for the cluster details and understand it; you don't need to memorize about the clusters by the way. So, for each and every question, read the question carefully, refer to the cluster details and switch the correct context to access the correct cluster.
2. DO NOT forget to login to correct cluster nodes and exit back to the workstation.
As I mentioned previously, there will be multiple cluster and different cluster nodes. If there is a question for resolving some node issues like node is not ready or kubernetes services are not working etc, make sure you login to the correct node and do the troubleshooting part. For example, one of my friends told me that he was not able to complete a question based on etcd snapshot as he could not find the snapshot or directory mentioned in the question. Please note, you are running the kubectl commands from a workstation console and nothing to do with etcd or kubelet or kubeproxy services! So remember to login to correct nodes and do the troubleshooting whenever needed. And the most important thing is, make sure you logout from that node and come back to the workstation console before proceeding to the next question.
3. DO NOT disconnect the power adaptor to your laptop or workstation.
As we know, the Kubernetes exam is an online proctored exam and the proctor will ask you to show the entire room and desk via the web camera. As we all use laptops and the built-in webcam, you need to take your laptop and show around ! So, most of the time you will disconnect the power adapter from the laptop and show your room and desk via the integrated camera. That's fine, but many people shared that, once the room check is completed, they forgot to connect back the power adapter ! so make sure you connect back the power adapter to laptop before the exam. If you are using a desktop computer, then make sure you have a power backup like UPS or something.
4. DO NOT plan your Remote Kubernetes Exam using a Mobile Hotspot or weak internet.
I agree, maybe you do not have a good broadband internet connection at home for taking exams. But please avoid attending exams using a mobile data or mobile hotspot. You will have enough stress to complete the exam questions and do not add extra stress by thinking about slow internet connection. Try to attend the exam from a place where you have a good internet connection as you need to share the entire screen and also the webcam, the whole time. If you are at home, make sure the connection is good and enough bandwidth as per exam requirement. If you do not have a good internet connection at home, try to arrange a place somewhere else; it can be your friend's home or maybe your office meeting room if you are still going to the office.
Also Read : Certified Kubernetes Administrator (CKA) & Certified Kubernetes Application Developer (CKAD) – Learning Path and Certification
The best way is to complete the Kubernetes exam compatibility test multiple times from your workstation and ensure your workstation is ready for the exam. Someone asked me last time, what about public WiFI ? again, strictly not recommended as you have no idea about its connection strength and reliability. Also it will be difficult to find a closed room with public Wifi access.
5. DO NOT search for help in Kubernetes.io all the time !
Yes, we all know kubernetes exams are open book exams and you can access the original kubernetes.io documentation during the exam. But do you really think you can search for help in a documentation portal during exams ? You will search for a specific topic, then you need to open and see each link it is showing on the result window, until you find the correct link ! Is that a good idea ?
Okay, you will have enough pressure and stress during the exam to attend each and every question. And if there is any clarification needed, you can refer to the documentation, but do not plan to search and find the reference from the documentation portal during the exam. Instead you can bookmark each and every link from the kubernetes.io documentation and use it during the exam. Yes, it is allowed. The kubernetes exams are there to assess your knowledge and skill set in learning tracks like administrator, developer or security expert and never expecting you to memorize each and every commands, arguments or kubernetes definition yamls. Yes, it is good if you can memorize but no need to push for that. So, start creating your own bookmarks while learning. And add these bookmarks in the same web browser from where you are going to attend the exam and simply refer to it during the exam.
Prepare well, do your best… All the best for your exam.